Hi, my name is Vicki and I have had a great love of dogs ever since I have been a child. My husband and I live on a family farm in central Indiana. In 1984, I started my research to find the perfect companion for our family. Since we had two small children and lived on a farm, we needed a breed known for being with good children and trustworthy around our livestock. This is when we discovered the Bouvier. They have been the perfect "fit" for our family. I worked with my first bouviers in obedience and did therapy work at a local hospital for several years. Then the "dog show bug" bit me. I am now "hooked" and actively show my dogs as much as time and money will allow. I am not a "big name" breeder producing numerous dogs and champions, however, this is not my goal. I have finished and bred several champion dogs, but most importantly, what I am most proud of, is that I produce mentally and physically stable puppies that have become devoted, loving family companions.
There is no greater reward than the companionship of a good dog.




We do not breed just to sell puppies. We are not in the business of selling dogs, matter of fact if this was a business, I would have to file for bankruptcy!!
I do not breed as just a hobby. We love this breed and I take breeding very seriously, this is my passion. Generally I keep at least one puppy from each litter. I have had Bouviers for over 25 years and have bred just 7 litters. Careful thought is put into each breeding. Our goal is to find responsible, loving, and forever homes for our puppies. We require our homes to take good care of their puppies, making them members of their family, feeding them nutritious food and seeing that they receive regular veterinarian care and checkups. It is very important that the puppy's new family does their part to keep the puppy healthy. Quality nutrition and keeping the puppy in proper weight with ample exercise are very important factors in the puppies overall health.
We also require our puppy homes to provide proper training for the puppy so that it will become a manageable, well-behaved family companion. Training and socialization will help to ensure your dog becomes a devoted and valuable member of your family. We highly recommend you enroll your puppy in an obedience course. Look for a trainer who uses positive reinforcement methods. We also recommend you purchase and read the book How to Raise a Puppy You Can Live With, by Rutherford and Neil this book contains very good information for training your puppy.
We do our best to ensure that our puppies are healthy and well socialized before they go to their new homes. Because we breed responsibly, we health test our parent dogs to make sure they are healthy and free from genetic disorders. I am always happy to provide proof of all health certifications. Although health testing can not guarantee or prevent all health problems, Health tested parents are much less likely to produce puppies with health problems. So called Breeders, who do not health test their dogs because they say there are no problems in their lines, are just lying to themselves, and to you. The truth is they cannot make as much money if they spend money on health testing. They are not breeding for the betterment of the breed. They are breeding for the enlargement of their pocket book. We urged you to do your research and know the difference between a responsible breeder, one who truly loves the breed, and someone who breeds because of their love of money. With the cost of ear cropping, vaccinations, and health testing most reputable breeders do good to break even... much less make money.

We urge you to take time to research whether a Bouvier is the right breed for you. Bouviers are large, need plenty of excercise and require a good bit of grooming. I advise you to read the article "Don't buy a Bouvier" by Pam Greene. As wonderful as they are, the Bouvier is not for everyone.
Visit www.Bouvier.org , this is the website for the National Club, it list several valuable articles on Bouvier ownership and care.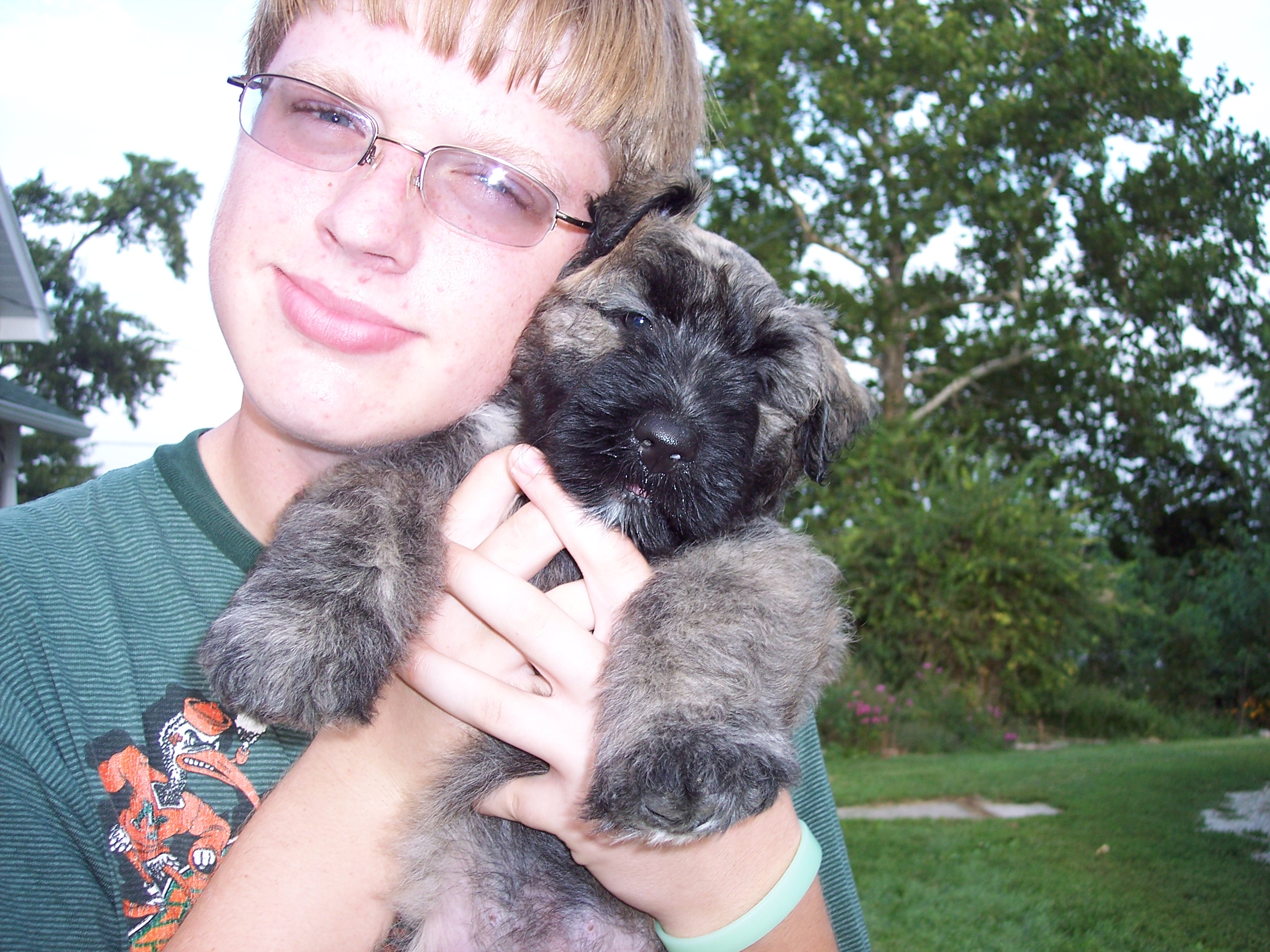 My son Jacob with puppy
" lots of hugs and kisses"